Listed below are some frequently asked questions that may help with deciding if we're a good fit for your event.
.
Do you need a stage for your performance?
What is needed varies based on the type of entertainment being provided. If you go with a strolling/close up magic package, where Carl is merely strolling through your event and entertaining the guests, there are virtually no additional requirements. Everything Carl needs he comes prepared with, in his pockets ready to entertain when he arrives at the event. For the stage show packages, there are some important requirements that are needed in order for a successful performance.
1. If Carl is the only performer with equipment on the stage (besides a podium), then we recommend a stage at least 12′ x 8′ and at least 6 inches off the floor. Depending on how high the stage is, stairs might also be required as there is fun audience participation throughout the performance. In cases where Carl's equipment would be sharing the stage with other performer(s), a larger stage me be necessary or other special considerations.
2. In most cases, Carl will provide his own sound system unless it's a performance that requires air travel. In this case, we'll also need a professional sound system setup and monitored throughout the performance. The best type of mic for this is a headset mic known as a

"Country Man"

. It is wireless and hands free. We also need an an input for an iPod for sound effects. Once again, most of the time Carl provides his own professional sound system. Please keep in mind that you still may have AV needs yourself and still may want to ask your venue to provide a microphone for a presentation, announce winners, give speeches, etc. 3. In regards to lighting, we have no specific needs but do recommend not having your event too dark because it becomes more difficult for your guests to experience the amazing magic when they are struggling to see what's happening..
What kind of room set up do you need for the stage show?
Ty

pically having the stage setup against a wall having all of your guests seated in front and as close as possible (this helps provide a more intimate feeling). Guests that are seated directly to either side of the stage or behind, have TERRIBLE seats and therefore it's best to avoid that. A space that can comfortably seat all of your guests without having them on the sides or behind the stage is best. Also watch out for those huge annoying beams right in the middle of some rooms. Please take into consideration your guests so they don't get stuck behind one of them and miss out on the fun. See the example room diagram below.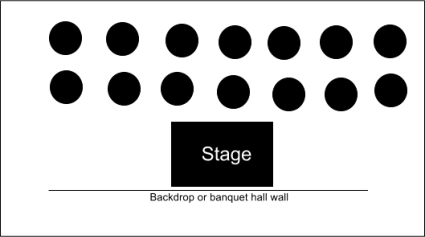 Optionally, you can request "pipe and drape" for the stage which basically serves as the backdrop of the performance and gives it a nice feel
Are you able to entertain while people are eating?
Technically yes, but we really don't recommend it because of the nature of the entertainment. It's very hard for your guests to eat dinner and at the same time participate and enjoy the "Magic" that is going on in the program. Since they will be actively be involved in the program, this is not the time for "multi-tasking".
If our event runs a little late, can we start your performance late?
No. Due to my busy performance schedule, all performances must begin (and more importantly) end on time. Sometimes my busy schedule doesn't allow anytime for flexibility with this so I do please ask for your cooperation. If you have to start me late, I may be forced to reduce the duration of the performance to accommodate my schedule. Please give yourself some cushion when planning your event's timeline. Be realistic on how long it may take to serve all of your guests so that I'm not forced to begin while they are still eating.
Are you going to embarrass or offend anyone?
I'm proud to say that absolutely NO ONE is embarrassed in any way. I've heard many horror stories of how other entertainers have completely offended guests in the audience with off color jokes and remarks. Carl's entertainment is completely G-Rated and never relies on entertaining people by making fun or laughing at people. "We're not laughing at you, we're laughing with you…
Will you offend anyone with conservative or religious beliefs?
There are absolutely no controversial, racial, political or religious references made in the show at all. Carl's shows are G-Rated.
Are you able to entertain people from other countries who may or may not speak English?
Thankfully, magic is very universally appealing to all walks of life! Although your non-english speaking guests may not totally understand every funny joke Carl makes, they'll still be thoroughly entertained and amazed by what they see!
 What size audiences can you entertain?
Carl's
 entertainment is best suited for small to medium size crowds. However, he has

 comfortably entertained from 10 to up to 500 guests in a ballroom. If you have a large group (200 or more), the use of projection screens makes the show much more enjoyable for your guests. Talk to your venue or contact a local audio/video company with questions about that.
What forms of payment do you accept?
Carl accept checks, Visa, MasterCard, American Express, Discover and PayPal. To pay online with a credit card or PayPal, use PayPal.Me/CarlLang for the secure link.
Do we need to pay a deposit?
Yes, a 50% initial investment and signed agreement is required to reserve a date. The event is not fully booked until these two things have been received.
Do you offer a guarantee?
All of Carl's performances are backed up by a full 100% money-back guarantee. If you and your guests are not thoroughly amazed and entertained, you don't pay a thing for the show. ( By the way, This has never happened…)